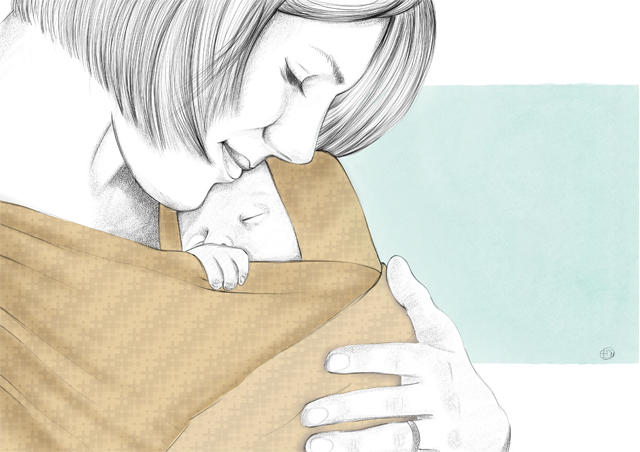 Baby wearing personalized painting. Watercolor and pencils.
Would you like to give as a custom gift to the apple of your eyes or to your sweetheart, leaving a unique memories mark? Then, you are in the right place. Here you can imagine and ask me everything you have in your heart.
I can make your custom portrait adding calligraphic writing (you can ask me also different styles, I love the hand lettering) and you can use it for your resume or give as gift to your best friend or your sweetheart.
All I need are only some informations about you or your person to paint and write.
All my portraits and digital illustrations are drawn on paper and colored digitally, entirely hand-drawn with a Wacom tablet. They represent my passion for art, true feelings, human faces, friendship and pure love.
They are realized with soft colors, as you see a beautiful and relaxing dream.
Here some of commissioned baby wearing portraits I just made.
If you like one of them and you would like to get it, send me a mail using the contact form below.
If you would like to have your special custom portrait, click baby wraps pictures and I'll be happy to make it only for you.
***
Per il compleanno della tua dolce metà quest'anno hai intenzione di stupirla/o?
Desideri donare ai tuoi più cari amici un regalo speciale che possa lasciare un segno indelebile nei loro ricordi?
Allora sei nel posto speciale che fa per te. Qui puoi immaginare e chiedermi di creare ciò che più ti sta a cuore.
Posso creare solo per te un ritratto personalizzato in stile "baby wearing" per fare un regalo alla tua migliore amica, a tua moglie o a chiunque tu abbia nel cuore.
Tutto ciò di cui ho bisogno sono solo alcune informazioni sul soggetto da ritrarre e su cui scrivere.
Tutti i ritratti e le illustrazioni digitali sono disegnati da me su carta e poi colorati in digitale, interamente realizzati con una tavoletta grafica Wacom. Essi rappresentano la mia passione per l'arte, i sentimenti veri, i volti umani, l'amicizia e il puro amore.
Sono dipinti utilizzando solo colori tenui, come se ci si potesse immergere in un sogno appena li guardi.
Ecco qui alcuni ritratti che mi hanno commissionato che ho già realizzato.
Se ti piacciono e sei interessato ad acquistarne una in particolare, mandami una mail utilizzando il contact form qui di seguito.
Se ti piacerebbe avere la tua fiaba personalizzata, clicca qui e sarò felice di realizzarla solo per te.